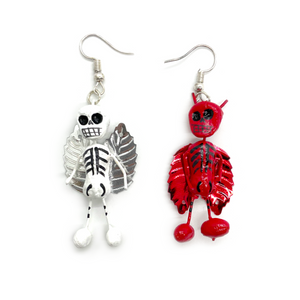 Crafted in Mexico by artisans using Mexican clay (known in Mexico as "barro"). Each unique earring set is hand-painted and meticulously decorated using a variety of colors.
Details:
Earrings • Each figurine stands approximately 1" high

 PLEASE NOTE: We want our customers to be happy with their purchase. Please be aware that each item is handcrafted and unique. We can offer the choice of main color for the Item itself, but other details -- including, but not limited to, color detail, adornments, instruments, etc.-- may be different than what is pictured. If you are looking for something very specific in the item, please contact us before placing your order and we will do our best to satisfy your request with the inventory we have available. 

I bought twice!
Like all the earrings, these are to die for. I bought 2 pair so I now have multiple possibilities, depending on my mood! I also mix with other Muertolandia earrings on occasion. They are just beautiful and real attention-getters!
10 STARS
The "Jumbo El Doyer" magnets are excellently crafted and shipping was prompt!
Thank You !!!!!